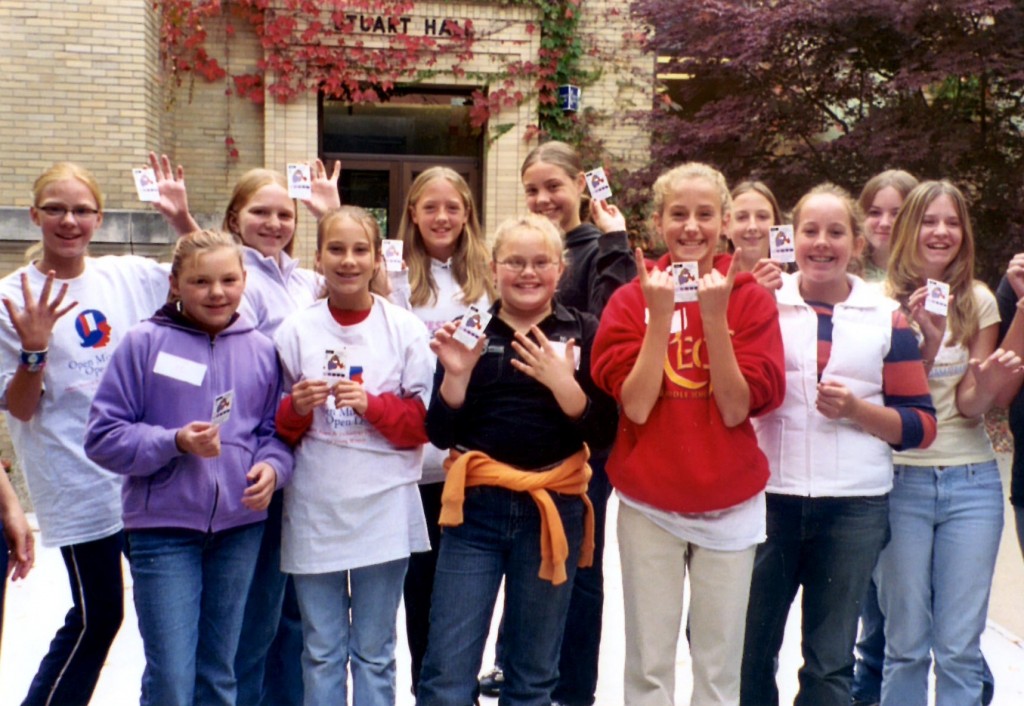 AAUW of Cedar Rapids initiated the first annual Open Minds, Open Doors conference, and we received a small grant from the National Association to get us started.  Since 1994, Coe College has generously hosted the conference and their in-kind contribution is priceless.  Grant Wood AEA initially provided secretarial support, distributed the information to schools in the 8 county area and believed in our mission.  In addition to the AAUW start up money, businesses and corporations in Cedar Rapids provided additional funding.  In 2012, the Federal STEM initiative provided funding so that GWAEA can now offer exemplary experiences in science, technology, engineering and math.  AAUW appreciates that Susie Green now wears the cap of coordinator, cheerleader, organizer and fearless leader.  It takes 100 women + (and several men) to make the conference happen.  Coe College student volunteers showcase the campus, helping middle school students find their sessions, and are go-to helpers for presenters. Our AAUW branch serves on the planning committee and provides the Thank You luncheon.  The partnership has been productive and rewarding.  We have a Coe College Professor, Dr. Maria Dean to thank for inspiring us to leap into this endeavor.  Maria continues to partner with Susie Green from the AEA, and she is the reason that we are able to use classrooms and the valuable resources on campus.
We estimate that over 10,000 girls have attended the conference over the years.
We wonder how much has the conference inspired girls to think about exciting careers that they might never of thought of without this experience?  How many of them went on to have STEM careers?
We know of one participant, Letia Blanco, who pursued her career in engineering and has helped organize a similar STEM conference in Houston, Texas called "Design Your World".  Letia said that when she attended Open Minds, Open Doors she participated in the small group session by a commercial pilot for United Airlines who encouraged the girls to imagine their dream careers.  Letia said that at that moment she knew that she could become anything she chose to be!  She pursued a degree in engineering and is employed by Raytheon in Dallas, Texas.   We are thrilled to know about this "spin-off" of the conference that our branch initiated. To view the Youtube video of Letia Blanco and the Texas conference google: https://youtu.be/TbSchZTi7Mg
It was ground-breaking when the first conference was held (before STEM was receiving nationwide attention) and we can only guess how many young women pursued careers in science, technology, engineering and math as a result.  We know about Letia and the hundreds of girls at the "Design Your World" conference now have unique hands-on experiences to inspire them to reach for the stars!